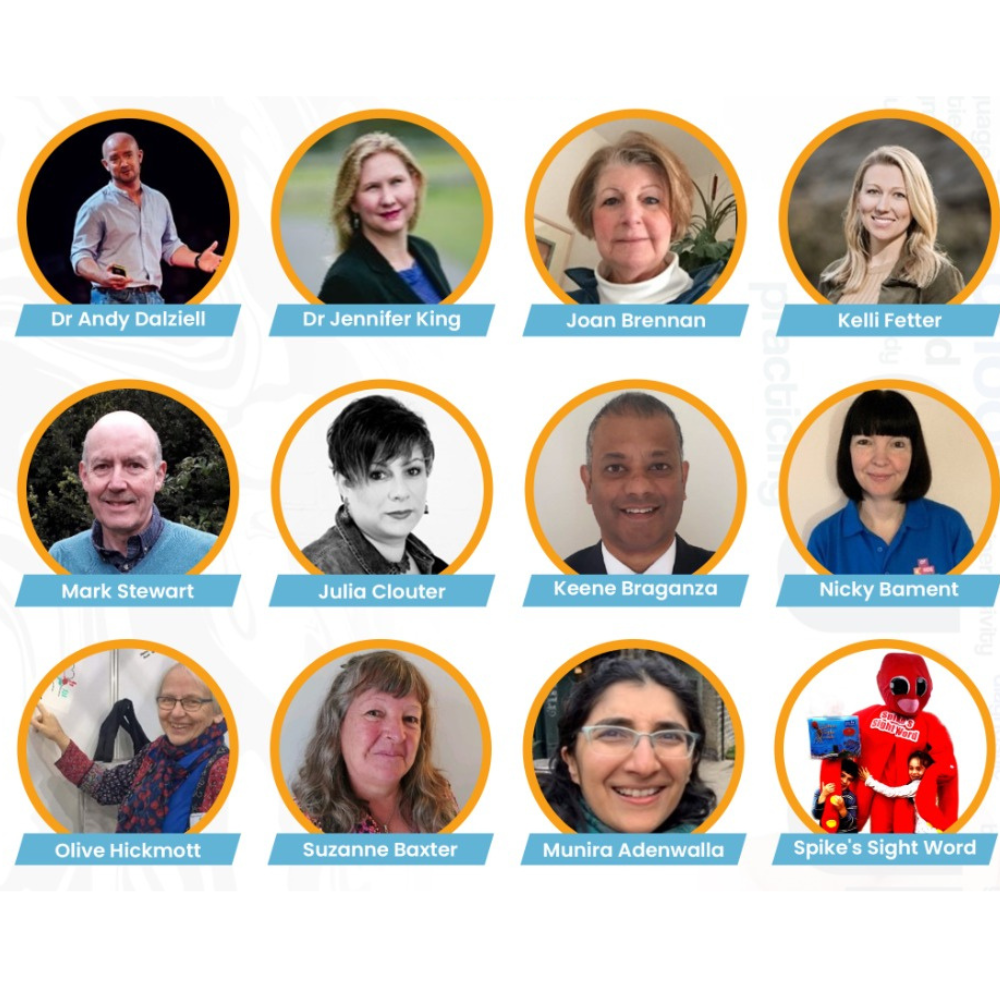 Kelli Fetter
Foundations of Dysgraphia
Kelli Fetter, Santa Rosa Beach, FL
Bio:  Kelli Fetter is the founder of Handwriting Solutions, LLC.  She is a Certified Handwriting Specialist and has previously practiced occupational therapy for 10+ years.  She has extensive experience in paediatrics as well as specific training in learning disorders and specific writing curriculums, methodology, and research.  As a parent, Kelli understands the struggles of handwriting firsthand as her daughter has been diagnosed with both dyslexia and dysgraphia.  As a professional, she is on a mission to bridge the gap between a child's struggles and barriers and their participation and performance with writing, both in and out of school.  Kelli is passionate about helping children who struggle with writing as well as educating and guiding families, teachers, and therapists who support these struggling students.   
Jennifer King
Dysgraphia: What Parents Should Know
Jennifer King, Dysgraphia Life, Vienna
Jennifer C. King, PhD is increasing awareness and catalyzing research for people impacted by dysgraphia. She is President and Founder of Dysgraphia Life, an expert speaker, a research scientist, family member to people with learning disabilities in written expression, and a vocal advocate. She founded Dysgraphia Life to raise awareness of dysgraphia while providing information, support, and resources to people with writing difficulties and their loved ones.
Dr. King has co-authored a book on Dysgraphia IEPs along with over twenty scientific publications. She received a PhD in Biology from MIT and a BS from Duke and uses her scientific background to launch initiatives to build research capacity in the dysgraphia community. Currently, she is the Principal Investigator for the "Building Capacity for patient-centred Outcomes Research in the Dysgraphia Community" (PCORI). Dr. King spent two decades in oncology research and advocacy where she became a sought-after expert appearing in major media outlets, presenting globally, and advising influential organizations. She is now using those skills to improve the lives of people with writing difficulties.
Munira Adenwalla
Beyond Pencil Grasp
Discover the underlying sensory and motor skills for writing
Munira Adenwalla      – OT4Kids, Southfields, SW London, UK.
Munira Adenwalla is an American trained Paediatric Occupational Therapist of 25+ years, specializing in sensory processing.  She helps children from birth to 13 years to move, learn, play, and write by getting to the root cause and developing the underlying sensory and motor skills needed. 
Munira is a strong advocate for parents' intuition and knowing their child best.  She empowers parents with the knowledge and confidence to support their child's sensory, motor and emotional needs through consultations and parent-group programs. 
Munira is the creator of the Foundations for Writing program, which helps parents develop and support their child's underlying sensory and motor skills for writing, using the No Writing Way (TM) approach. 
Nikki Bament
Dysgraphia through an OT lens
Nikki Bament OT4Kids with DCD
After qualifying as an Occupational Therapist in 1996 I joined the NHS, spending my first year on mixed rotations before taking a role in Paediatrics in the community, working with 0–19-year-olds which is an area I was always interested in. Ultimately progressing to a band 7, I chose to specialise in Neurodivergent children and young people with motor skill difficulties. In 2015 I started my own independent OT practise, OT4KidswithDCD, alongside my NHS work, then in 2018 left the NHS to become a fully independent OT. Being independent allows me to offer the time and quality of service I feel is needed to fully understand a patient's needs to better recommend functional strategies and equipment which will benefit them. In 2019 I fulfilled an ambition to run my own charity and founded Equipped4Learning, providing equipment to enable Neurodivergent children and young people to access their curriculum throughout West Yorkshire
Suzanne Baxter
Ways that children and parents can improve their well-being and resilience
Suzanne Baxter, Mental Health Therapist, Swindon, UK
Over 20 years working in Mental health across most age groups. Working in a variety of settings, as an advocate on Mental Health wards supporting young adults through to older adults, in one-to-one sessions, to managing a respite house. 
After obtaining a teaching qualification in 2013, I began to create and facilitate workshops whilst also running officially recognised courses such as Mental Health First Aid (both Adult and Youth), and Suicide First Aid. Today I research, develop and design bespoke workshops and talks around mental health and well-being in subjects such as "Technology – the pros & cons", " Understanding Imposter Syndrome" to "What is well-being" and have taken these talks and workshops into primary and secondary schools, Universities and businesses in England and Global. 
My passion is raising awareness of many different areas around well-being and sharing suggestions to aid self-development. 
Julia Clouter       
Nurturing Writing Proficiency Through the Power of Reading 
Julia Clouter, Whitchurch, North Shropshire, UK
Global Head of Education for Scanning Pens
Julia works alongside schools, colleges, universities, workplaces, correctional facilities and policy groups to help implement strategies that promote independent literacy skills. She is also an ambassador for Succeed with Dyslexia. This role enables her to share information about SEN, SpLD dyslexia, hidden learning needs, and educational technology solutions with a wide audience. She is the co-author of The Nasen Assistive Technology miniguide.
Joan Brennan
Practical Strategies for Dysgraphia & Dyslexia
Joan Brennan founder and CEO of Brennan Innovators, LLC, Joan M. Brennan, is a certified educator (State of MO) and the creator of the patented Reading Focus Cards handheld tools and apps for Mac/PC (U.S. Patents 7,565,759 and 8,360,779). Since the company's inception in 2007, Ms. Brennan has provided her literacy tools to thousands of readers in all age groups throughout the U.S. and around the globe. Her handheld tools and apps are especially helpful to individuals with dyslexia, dysgraphia, ADHD, and other challenges. A graduate of the University of Missouri-St. Louis (UMSL) with K-12 teaching certification from the State of Missouri, Ms. Brennan is an experienced middle school educator (18+ years). Since 2006, she has been an instructor in the College for Kids Program for gifted and talented K-8 students at the St. Louis Community College, creating STEM curricula and teaching many STEM classes in the program
Sharleen & Keen Braganza
'How freeing the conscious mind through touch typing accommodates literacy skills'
KAZ Touch Typing     How freeing the conscious mind through touch typing accommodates planning, creative writing, spelling, processing, proofreading and editing.
Keene Braganza – Managing Director
With over 25 years of experience as Managing Director, Keene understands the impact touch typing skills can have on efficiency, productivity, and workflow for both mainstream and neurodivergent individuals.
Sheraleen Braganza – Director of Education and SEN
A former RGN nurse with experience working with children and young adults in the SEND sector, Sheraleen has seen the difference assistive technology can make. She is passionate about all children being equipped with the correct tools to reach their full potential.
Dr Andy Dalziell
The underlying physical basis behind handwriting difficulties
Dr Andy – Better Movers & Thinkers
Dr Andy is an Associate Tutor at University of Edinburgh, a Research Associate at University of Strathclyde, and Director of Better Movers and Thinkers Limited. Dr Andy has 21-years' experience of clinical practice in supporting the learning and behaviour change in infants, children, young people, and adults from a wide variety of backgrounds.
Andy specialises in providing specific home-based intervention programmes for infants, children, adolescents, and adults who have learning and/or behavioural difficulties, developmental delay or individuals who are underachieving.
Andy looks behind the symptoms and treats the underlying factors.
Mark Stewart 'Left-handed'
Potential School issues for Left-Handed Children and the Resources to help them!
Mark Stewart, Left 'n'Write, Worcester, UK
Mark Stewart (right-handed!) started his "Left-handed" journey in 1992 when his youngest son showed strong signs of being left-handed. In fact, his son is left-eye dominant, left-handed, and left-footed!
With his wife Heather being a Primary School teacher, they were immediately drawn to the educational side of being left-handed.
He and his wife have co-written a book titled "So You Think They're Left-Handed?", an information and activity book for children aged 3-5yrs, as well as the "Left Hand Writing Skills" set of 3 Handwriting practice books for parents and Schools.
They designed a "Writewell" mat, "The Left-Handers' Handwriting Stickers" and "The Left-Handers' Handwriting Table Guide" as well as 2 x A3 size posters for classroom and staffroom use.
He has just launched an interactive, downloadable training video titled "Left-Handed Children – A guide for teachers and parents" but is happy to run in-person training too!
Olive Hickmott
Picturing letters and words improves handwriting – its magic
Olive Hickmott, Empowering Learning, St. Albans, England, UK
Olive has 24 years experience, specialising in helping students excel through working with their visual strengths.  She, herself, had undiagnosed Dyslexia and ADHD for 50 years until she discovered the merits of visual learning, the supporting neuroscience and how to use her strengths for literacy, concentration and so much more.  She coaches 1-1, groups, teachers and parents in how to use their visual thinking skills, with exceptional results.  Whilst working with dyslexics, many of whom also have Dysgraphia, they often dramatically improve their handwriting.
Spikes
Spike's Sight Words
Sophia Bradley, Spike's Sight Words, UK
Spike's Sight Words are educational board games aimed at helping children practise sight and high-frequency words in a fun, visual and engaging way. Split into different reading level tokens and with over 30 board game designs, Spike's board games are vastly becoming a great way to learn.
They were nominated this year (2023) for a British Dyslexia Association Award and are loved by SENCO'S across the globe.